It seems that Rove won by default, at least where the Siegelman case is concerned. Conyers, Chairman of the U.S. House Judiciary Committee, who made statements over and over, concerning the Rove connection in the railroading of Siegelman, that he would "see this matter through to the end", is now claiming success by applying that statement to an investigation into the Bush administration's involvement in the firing of U.S. Attorneys. The mainstream media have tagged along, dropping any follow-ups to the Rove subpoena.

On the Web site for the Committee on the Judiciary, in connection with the Committee's success in forcing Rove and former White House Counsel Harriet Miers to testify before the Committee (in transcribed depositions) over the firing of the attorneys, Conyers states:
"I have long said that I would see this matter through to the end and am encouraged that we have finally broken through the Bush administrationís claims of absolute immunity."
Yes, Congressman Conyers, you did make that statement again and again ... but ... wasn't that concerning the Rove subpena in the Siegelman case?
---
12/22/08 - Update
The Department of Justice's Office of Professional Responsibility stated in a letter to Conyers today it expects to complete its probe into allegations of politicized prosecution in the Siegelman case "in the near future". They also stated they are looking into allegations brought forward by Siegelman's attorneys that there was improper communication between jurors and members of the prosecution team during Siegelman's trial.

No word yet on what is happening with the Rove subpoena.
---
9/6/08 - Update
As expected, Rove refused to attend, citing "executive privilege." Not much has transpired since then.
---
7/3/08 - Update
Not much new news here. Rove's subpoena is for a July 10th testimony. He has already stated his refusal to attend.
---
5/28/08 - Buddy Logan
After Don Siegelman, a Democrat, won re-election as Alabama's Governor in 2002, GOP members got together in a midnight, closed door vote manipulation. There was something wrong with one of the machines in one county, they said.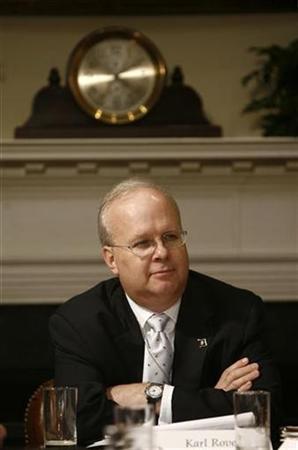 Karl Rove

Claiming they fixed the machine in their late-night, locked door operation, they announced later that morning "Well lookie here! Siegleman didn't win after all! Gooolie!"

This was an illegal action, directly and unequivocally in violation of Alabama State laws and the Alabama State Constitution. With corrupt officials and judges to deal with, Siegleman decided not to fight.

To make sure he wasn't a problem, 3 months later, Siegleman was convicted of corruption and sentenced to 7 years in prison. After 25 different charges were thrown out previously by 3 different judges, Karl Rove apparently became involved (according to Singelman's rival's former campaign attorney), new charges of bribery and mail fraud were brought up, and Siegelman was convicted.

When asked whether he planned to testify about his role in the suspicious prosecution and imprisonment of Siegelman by the U.S. Department of Justice, Rove said that he had no intention of complying - even after being issued a subpoena by the House Judiciary Committee. Here is his exact response:

"Congress, the House Judiciary Committee, wants to be able to call presidential aides on its whim up to testify," Rove said. "It's going to be tied up in court and settled in court."

One of the keys to our system of checks and balances is the ability of Congress to oversee the activities of the executive branch and to seek testimony where appropriate. To describe this as a desire of Congress to "call presidential aides on its whim up to testify" is simply arrogant and, frankly, un-American.

Fortunately, Congress has the ability to use its inherent contempt power to have Rove arrested and brought to Congress to testify. Given Rove's statement, Congress MUST now use this power.

House Committee Chair John Conyers says Congress has a duty to get to the bottom of the matter. "We'll do what any self-respecting committee would do," Conyers said. "We'd hold him in contempt. Either that or go and have him arrested."

An e-mail sent out by Representative Robert Wexler concerning, contempt charges against Rove, stated: "I do not advocate this option lightly, but the reality is that Congress has few options left against an Administration that totally refuses to submit to any type of reasonable Congressional oversight. Congress has both the right and obligation to investigate these matters. Never before has an Executive so upset the checks and balances inherent in our Constitution. If we back off or delay, we effectively forfeit the power of Congress to investigate the Executive branch."

Wexler's e-mail went on to say: "Enough is enough. We have a Constitutional obligation to provide accountability to a White House that is trying to usurp the constitutional powers of Congress. "These are the very reasons why I have been pushing for impeachment hearings for Vice President Cheney. The Bush Administration has been running roughshod over the Constitution for eight long years. We should not allow the promise of a positive election be used as an excuse to ignore our duty to investigate crimes that weaken the very fabric of our Democracy."

In one of the most blatant dismissals of congressional power ever uttered by a current or former member of the Bush administration - which is no small accomplishment - Rove essentially denied that congressional oversight power exists during an interview ABC's "This Week" on May 25.